28.05.2019 Diana & Arnt from Germany, civil wedding on Santorini
The special day! Romantic wedding on a wedding terrace in Santorini. Wedding together - completely private and unforgettable….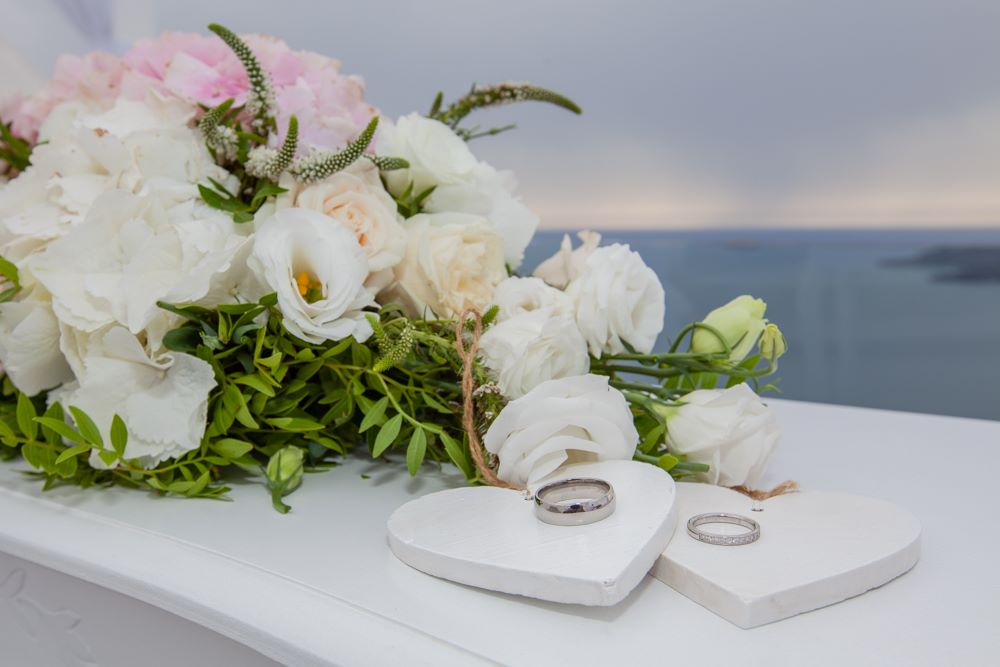 31.05.2019 Monika & Fabian from Germany, symbolic wedding near Rethymno
Dear Lissi, dear Georg,
first of all, thank you so much that you have given us a wonderful day and that we always stood by with advice and action before and after. It was a great time and all of our guests are enthusiastic about the ceremony and celebration.

Dear marriages,
we want to tell you about our beach wedding: I made a marriage proposal to my wife in May 2018 on vacation in Rhodes. At the time, however, we had no idea when, where and how we wanted to get married. However, there were many advertisements saying "get married here". When we got home we talked about this idea and it sounded good, but we already knew Rhodes and Crete was still on our to-do list anyway.
So we looked for providers who are planning weddings in Crete and found a large number of providers quite quickly. We noticed perfect-wedding-crete.com because we found this site to be the most likeable and flexible planning and design was offered there. So we contacted Lissi and soon we had our first "conference call". From the beginning, the contact was very friendly and above all constructive. You only have the vision of a great wedding on the beach, but no idea how to implement it. And this is exactly where Lissi and Georg come into play: with their many years of experience, good local knowledge and a large network of service providers, the two can fulfill almost every wish (however, sky lanterns did not work) and thus give each wedding party a very individual experience. And so our vision of a rustic beach tavern became Sirokos Beach Taverna, a little west of Rethymnon. We can also warmly recommend this tavern. The young team offers great service in a fantastic setting and also likes to celebrate a bit. Ultimately, we are convinced that it couldn't have been better and that is largely due to Lissi's and Georg's merits. You just have to choose your own desired program, make some money loose and Lissi and Georg plan, organize and control everything. In retrospect, we can say that both Lissi and Georg as well as all the local service providers were worth every penny. All expectations were at least met, often exceeded.

.

03.06.2019 Melanie & Robert from Austria, civil wedding on Santorini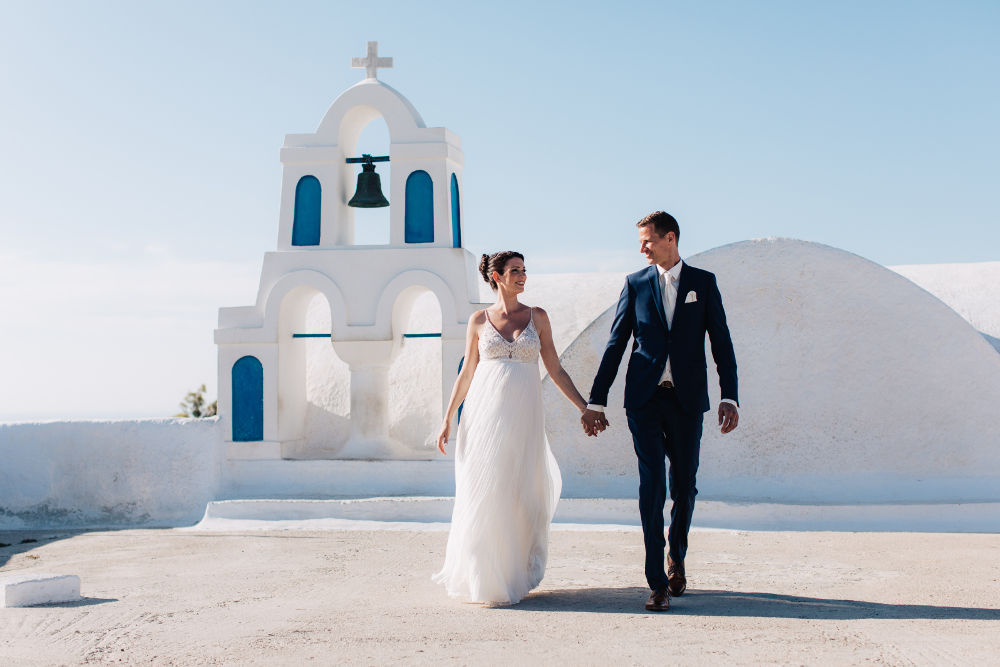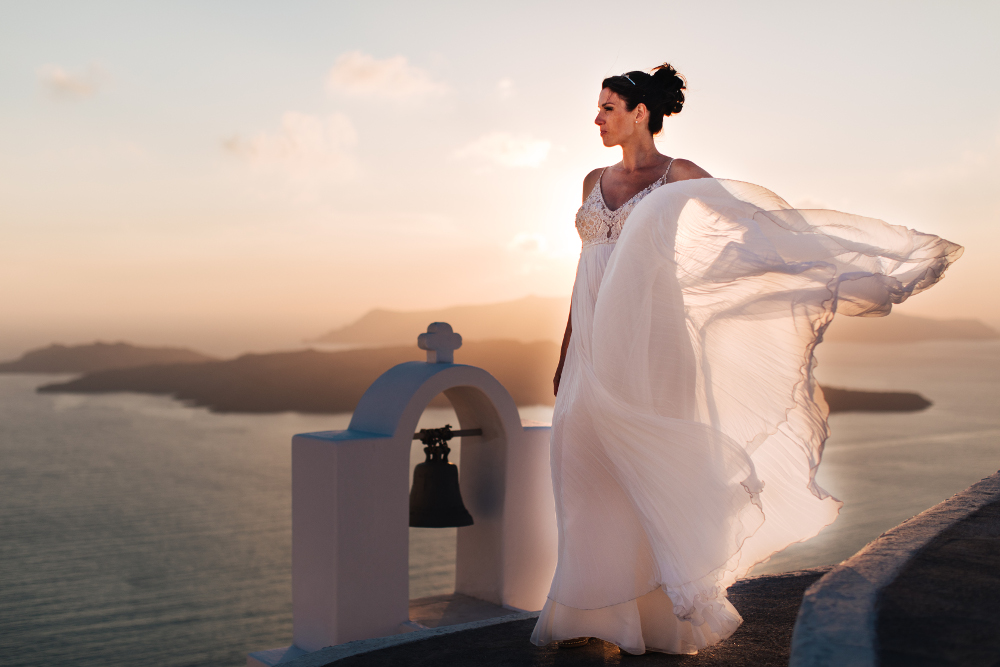 08.06.2019 Catherine & Detlev from Germany, symbolic beachwedding near Rethymno

24.06.2019 Anja & Steffen from Germany, Wedding near Fortress
Dear Lissi, dear Georg,
we would like to thank you again in this way! You found the most beautiful place for our free wedding ceremony, it couldn't have been better and more appropriate. Thank you very much, we would like to say that you managed to get married in this special place in a very traditional way. Thanks to the great work of the photographer, we were able to capture this wonderful day not only in our hearts but also in great photos - and who knows, maybe we will do a marriage renewal ceremony in 25 years ;o).
Filakia
Steffen and Anja

.

08.08.2019 Ines & Florian from Germany, civil beachwedding near Rethymno
After long research for a wedding abroad, we decided to get married on the beautiful Greek island of Crete. Our dream has always been to get married right on the beach with a view of the water. Since it is not possible to plan a wedding in other European countries, our search fell on the "Perfect Wedding" page. A meeting in Crete took place a year before our wedding. Very nice and friendly contact, with a lot of commitment, heart and love looks down to the smallest detail for the possibilities of implementing an individual wedding. From the planning to the result, everything went in harmonious cooperation. We were always in contact by phone to make arrangements according to our ideas. The mediation to the translator, the official channels and the organization of services such as location, food, florist, photographer, stylist etc. were implemented perfectly and reliably. Financial processing was also easy. Our wedding ceremony on Siroko´s Beach in Episkopi exceeded all our expectations. Fantastically beautiful backdrop with sunset behind the mountains. Loving equipment down to the smallest detail. Thank you for the unforgettable moment for us and our guests. In Lissy we found a person we loved from day one. Her partner Georg was always always by her side. Contact with you will continue to exist, and we are looking forward to meeting you again on our next visit to Crete. We wish you many happy weddings and happy couples - you have the warmth for this. All the best and a big THANK YOU for everything!
Florian & Ines from Thuringia


14.09.2019 Julia & Stefan from Germany, beachwedding near Rethymno
Dear Lissi,
we would like to thank you again for the unique wedding. It was much nicer than we ever dreamed of. As soon as you contacted us, your warm words would greet us and we had a very good feeling with you as our wedding planner. Your concept and ideas were so great and coherent with each other that we were convinced to plan our wedding with you. We appreciated it so much that you responded to all of our requests. We were able to design everything as we wanted it and you made everything possible. From the pick-up at the accommodation, the wedding ceremony on the beach to the great tavern, with which you have coordinated everything in detail. Of course, we don't want to forget the great wedding cake at this point. We are so happy to have met a warm person like you. We have always felt that you are a good friend than any person who simply does a job for money. The passion you put into your job makes it so easy for you to do your job because you just love doing it. We hope that many more couples will be able to plan their wedding with you. It will definitely be a dream wedding, just like ours. We are both sure of that! We wish you all the best and maybe you will meet again sometime.
Until then or as you say in Crete: Antío
Julia & Stefan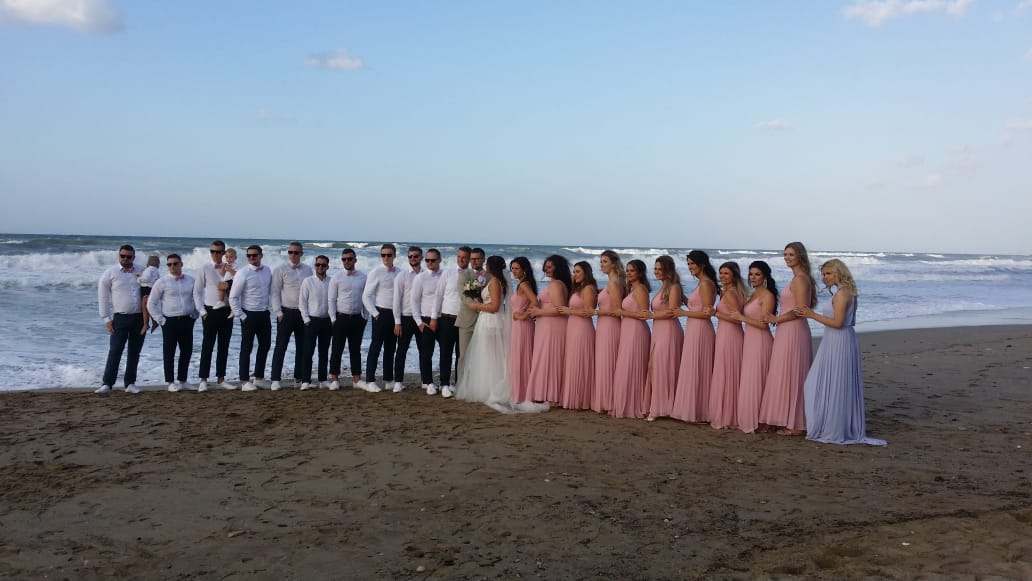 09.10.2019 Anjuli & Jan from Germany, symbolic wedding at Kissamos
Dear Lissi,
We thank you for your wonderful preparation and implementation of our symbolic wedding on October 9th, 2019 in Kissamos. You looked after us super right from the start and we felt completely taken care of by you. The arrangement regarding the ceremony, the food, the location etc. went smoothly. You always had great ideas and stood by with advice. You gave us an unforgettable second wedding on the beach. You are a great woman and we can heartily recommend you. Thank you very much.
Lovely Greetings from germany.