19.05.2017 Nadine and Alexander from Germany, churchwedding in Chania
Dear Lissi,
We would like to thank you once again for your wonderful work as a wedding planner. You prepared us an unforgettable day and read every wish from our eyes. It was our dream that you made possible for us. We were happy to get to know you. We are very happy that we found you on the Internet! Kind regards from Germany
Nadine and Alexander

22.05.2017 Sofie and Johan from Sweden, renewal of the vows at the beach of Chania
Hi Lissi!
We are so glad that we found you and that you made our wedding day the best day ever. Everything was absolutely perfect! Everything has been so easy and you knew exactly how we wanted the wedding to be. The decorations was so beautiful just like you. Thanks once again for making our wedding the best day of our lives!
Greetings from Sofie and Johan

26.05.2017 Sandra and Thomas from Germany, symbolic wedding in Plakias
Dear Lissi,
a big thank you to you and also to Georg for your commitment and loving support. Since our first telephone calls you have given us a good feeling for the planning of our beach wedding, for our questions you have been at our disposal with words and deeds at any time. Our individual wishes you have implemented excellently. That we had an unforgettable and wonderful day, you also contributed to that!! Thanks again for that. We wish you continued success and happy wedding couples.
Liebe Grüße, Sandra & Thomas

28.05.2017 Anja and Daniel from Germany, symbolic wedding on Santorini
Dear Lissi,
we're still speechless about how beautiful our Santorini wedding was. You fulfilled us a big dream and for us it was our dream wedding. Everything was perfect and from A to Z you organized everything very well. Nothing was missing and we could fully rely on you. You were always available and took care of everything directly. But the most important thing, you are so familiar and cordial, we especially like that. You took care of our son so well with your husband that the moment of the wedding belonged only to us. Simply great! Again a heartfelt thank you and a big praise to you!!

31.05.2017 Georgiana and Joseph from England, symbolic wedding in Akrotiri (Santorini)
Thank you Lissi for all the very detailed and perfect planning. This memorable day will definitely stay with us for the rest of our lives. It was just the way we wanted and couldn't have asked for more... and,of course, Lissi and her team were just fantastic, exceeding our expectations.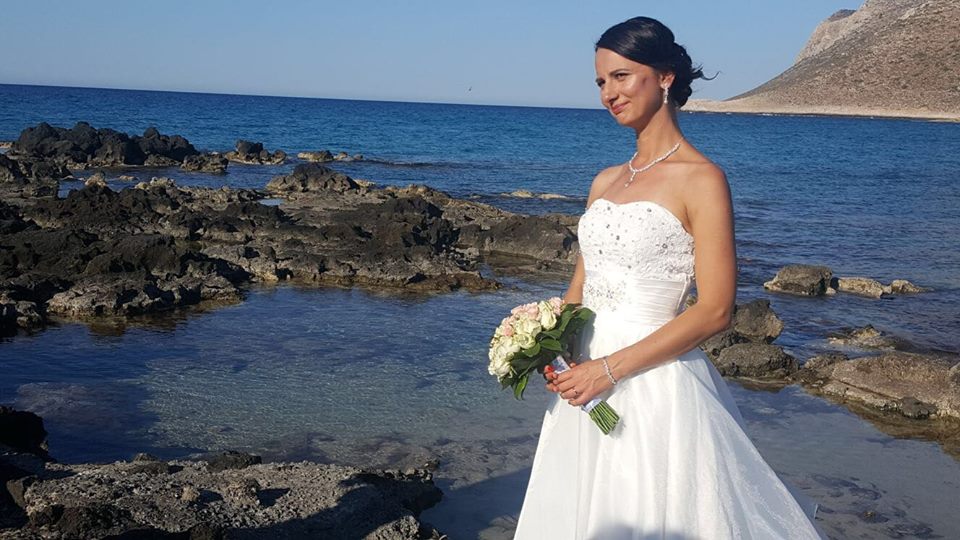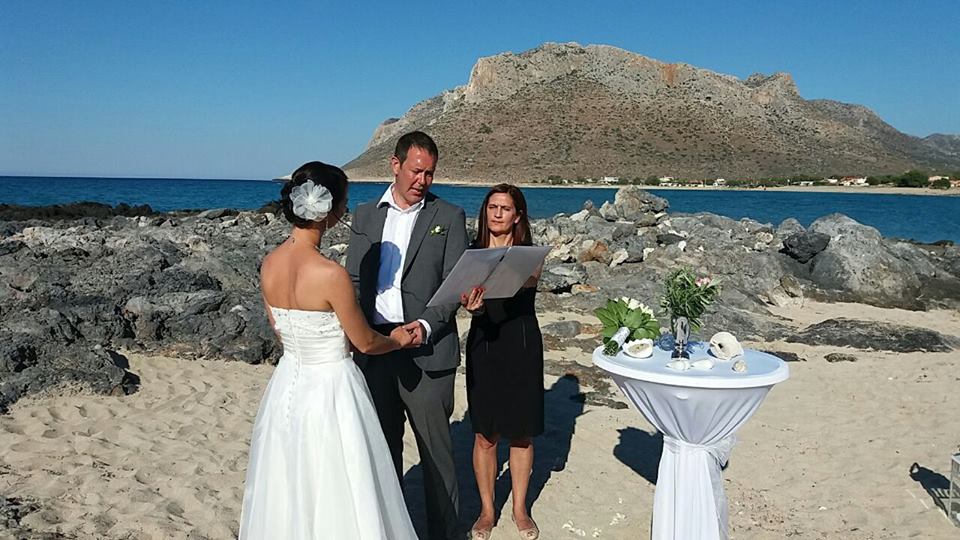 06.06.2017 beachwedding in Agia Galini
Dear Lissi!
Here comes, as promised, our review: Thank you very much for this unforgettable day! The organization, the location and the course of the ceremony - just everything was perfect! We will always remember this day with pleasure and would marry again on Crete at any time!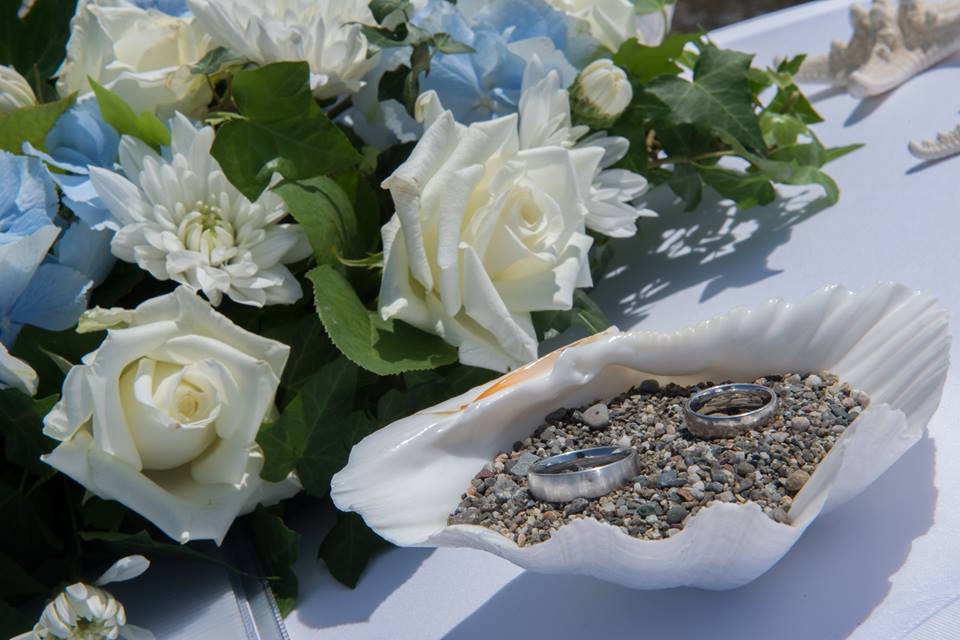 25.07.2017 Doro and Björn from Germany, beachwedding near Rethymnon
Dear Lissi,
a wedding abroad (in our case Crete) is quite difficult without the necessary language skills, which is why we decided to cooperate with a wedding planner. Your website appealed to us and on our request by email a friendly message came back very quickly with the request for a personal telephone call - your friendly, humorous charisma and competent nature convinced us and we were happy that you agreed to plan our wedding. The sympathy was there on both sides right from the start, and we also noticed from your questions and ideas that you have experience in your profession and that you practice it with passion - with your work you have always given us the feeling that our wedding is special for you. In short, you created the framework for our wedding to be a dream wedding for us and our family. I can advise any couple to meet with you on site - discussing our ideas/wishes and the process personally (and especially at the venue) has once again strengthened our decision, given us a good feeling and of course increased the anticipation. Your support with regard to our language barrier was the basis - most of all I was enthusiastic about the commitment with which you organized the whole logistics, always with a smile. With your coordinated network regarding the legal issues, the construction on the beach, the florist, the catering, the confectioner, the hairdresser as well as the make-up artist, we received a full service package so that none of our (special) wishes remained unfulfilled and we always felt in good hands. From the first phone call to the wedding day we could rely on you and your great planning and even after our wedding day we are always happy to hear from you. We will certainly see you on Crete again and in Berlin you are always welcome! From us you have a recommendation of 100%. We wish you all the best and thank you very much for the wonderful time of our wedding planning!
Doro & Björn

27.07.2017 Veronika and Harald from Austria, beachwedding near Rethymnon
Dear Lissi!
Already at the first contact it was clearly noticeable for us that you approach things with your heart - just as you often said yourself: "A wedding is something very personal and always individual, the planning has to be the same! For this we thank you from the bottom of our hearts. We thank you for your great commitment, your patience and your care, which you put into every detail. Unforgettable!

12.08.2017 Kani and Martin from Sweden, wedding on Santorini
First of all I would like to thanks this wonderful woman for all this help and that she made our wedding perfect. Without Lissi we wouldn't have manage to make this perfect wedding. In 8 months we have been talking every week about this wedding and all the details. She is worth everything and 100% trust. Thank you so much for this amazing wedding and we will recommend you to every couple that have plans to get married in Greece/Santorini.
Vi vill börja med att tacka denna fantastiska kvinna för all hjälp och stöd för att få den perfekta bröllopet. Utan Lissi hade vi inte klarat av att planera det perfekta bröllopet. Under 8 månader har vi haft kontakt och planerat detaljer inför bröllopet. Honär värd allt och är pålitig till 100%. Vi vill återigen tacka dig för det underbara bröllopet och kommer att rekommendera dig till alla par som har planer att gifta sig i Grekland / Santorini.
Our review from Kani and Martin from Sweden to you ❤ love you!!

Videoimpression (MP4)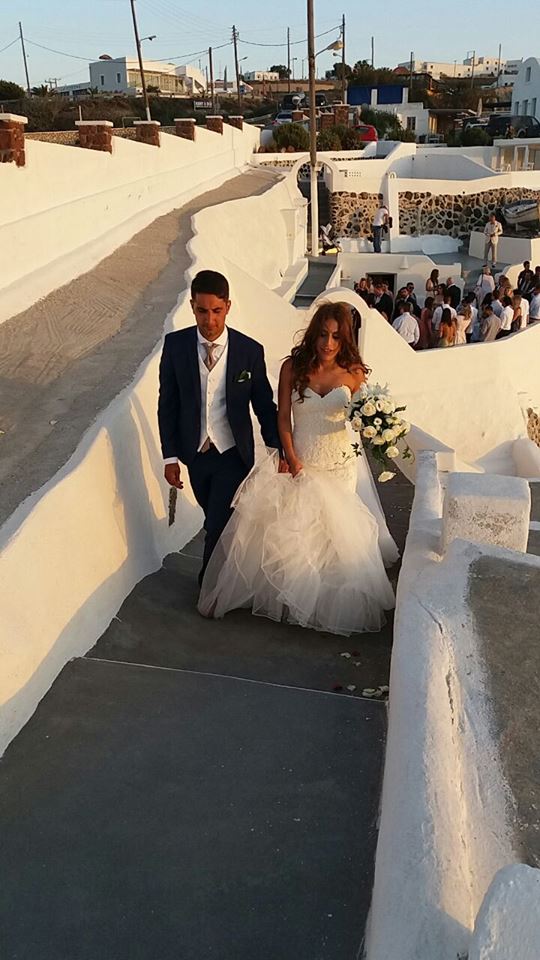 31.08.2017 Manuela and Anesti from Germany, beachwedding near Rethymnon
Dear Lissi!
Now we are back in Germany and think so often about our beautiful wedding directly at the beach of Petres. From the first phone call we knew that you were the right one for us. You were always there, even one week before the wedding, when I had decided at short notice for a stylist, you organized everything. Our apartment directly at the beach of Petres was super beautiful and the owner was very cordial. She prepared a beautiful wedding room for us. On the day of the wedding everything went as discussed, it was so beautiful .......I can't put that into words. The photographer was super and we have dreamlike beautiful photos. So dear Lissi, many thanks for everything, also to the stylist and the photographer.
Greetings from Manuela, Anesti und Yannis

09.09.2017 Emelia and Martin from Sweden, wedding in a hotel near Rethymnon
Supernöjda!
Tack Lissi för att du hjälpte oss att göra våran dag till det vi ville och lite till. Utan dig hade vi aldrig kunnat genomföra detta. Från planering med förslag och idéer till genomförande och medverkan på vår stora dag i livet, har du levererat med kvalité och hjärta över förväntan. Så tack igen, det var verkligen en magisk dag!!
Emelia & Martin
Super pleased!
Thank you Lissi for making our day to what we wanted and more. We couldn't make this day happen without you. From planning with ideas and proposals, to making it happen being with us at the biggest moment in our life you have delivered with great quality and heart over our expectations. We thank you from the bottom of our hearts. It was really an amazing day!
Emelia & Martin

12.09.2017 Elisabeth and Erwin from Austria, beachwedding in Paleochora
Dear Lissi,
the everyday life has us unfortunately meanwhile again fully under control. A review of the past year of preparations, with first contact in August via WhatsApp, looking for a suitable beach section at our meeting in September in Paleochora, also with our various telephone calls, mails and also via WhatsApp messages we always had the feeling with you, dear Lissi, to have chosen the right partner for our wedding in Greece! Since we were already married once, it should be something special this time. That it has also become through you, in every respect. We would like to take this opportunity to thank you once again for everything.
Best regard from Elisabeth and Erwin

17.09.2017 Diana and Frank from Germany, wedding on Santorini
Dear Lissi,
our wedding exceeded all our expectations, so we're still speechless. You have managed to make a very small wedding so special and intimate that we will never forget this day. And don't forget Georg!! That meant so much to me. Thank you very much. " Nothing Else Maters"
Thanks for your super support from start to finish. Starting with the super e-mail contact, the compilation of the documents needed on site, the location - a dream, the decoration - perfect, the bridal bouquet - beautiful, the stylists and the photographer - the hammer, the restaurant recommendation and of course the legendary registry office. Everything was perfectly organized. That's how we noticed that you are passionate about your profession. In the last few months you have become much more than "just" our wedding planner for us. Stay as you are. We hope that the contact between us will continue.
Frank & Diana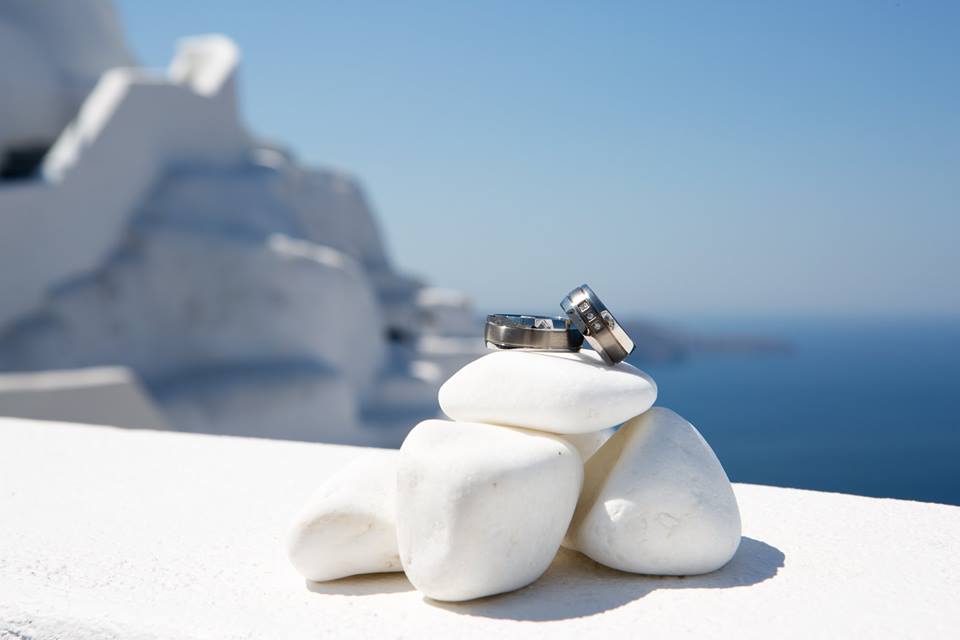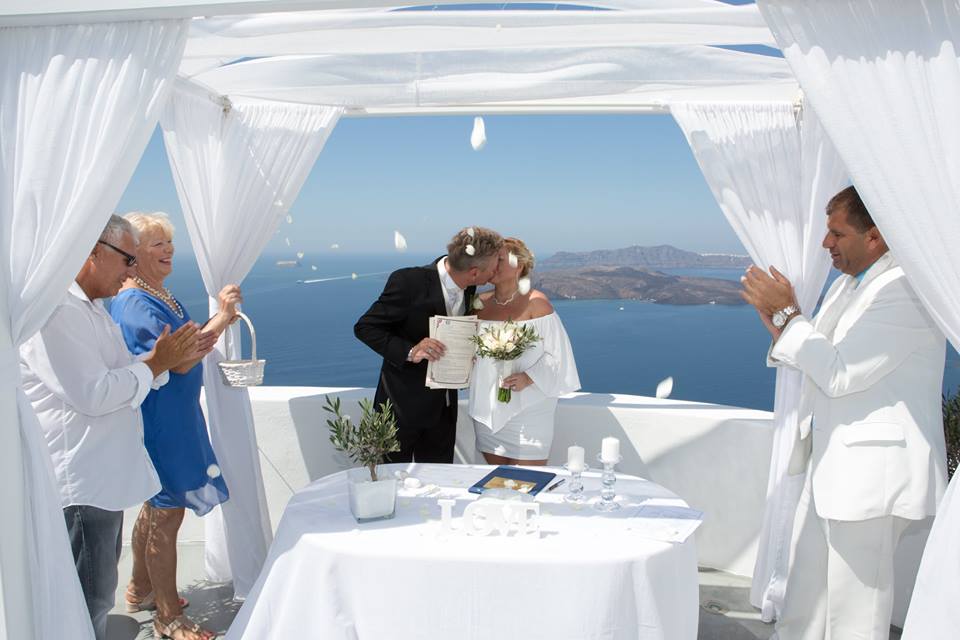 20.09.2017 Claus and Claudia from Germany, wedding in the townhall
Yassou Lissi,
unfortunately there is a lot of action with us since we are home again and the everyday life has us unfortunately again, therefore we come unfortunately only today to write to you. We would like to thank you again for the great organization and preparation for our wedding in Episkopi. Without you the wedding would certainly not have taken place, because you have taken over all the necessary documents and official procedures in the best way for us. We could totally rely on you and everything went well and to our complete satisfaction. Although it was just a simple civil wedding, it was a wonderful day for us, which worked out well despite our excitement. You led us safely through the ceremony for which we once again say a hearty efharisto poli. We can only warmly recommend you to all future couples who want to get married in Crete and give you a grade of 1. We wish you and your George the very best for the future!
Best regards from the still happy married couple Claus + Claudia