05.05.2015 Benjamin and Verena from Switzerland, wedding at Santorini
Dear Lissi,
thank you very much for your work, the name of your company couldn't be more fitting. Even though we could never see each other before the wedding, since we arrived on Santorini by ship on the morning of the wedding day and continued our journey by ship in the evening, everything worked out wonderfully and this day will always be in our hearts. Many thanks also for the pre-carriage and onward carriage with the documents, everything worked out very well and your partners also did a great job.
Thank you very much, you turned our wedding into a dream wedding.

06.05.2015 Emilia and Radenko from Austria, wedding on Santorini
15.05.2015 Mia and Tom from England, wedding in Rethymnon (hotel)
We got married on the 15th May 2015 and had the most magical time. When deciding on a wedding abroad there were several places we were considering. We had narrowed it down to Europe so more people could make it and i was searching on-line (which was a thankless task most of the time!) when I came across Lissi...
We then booked a trip to Crete to meet Lissi and make sure Crete was the right place for our big day. We had a great week and we knew Crete was going to be perfect and that we couldn't do it without Lissi. Lissi was amazing in the following 7 months leading up to the big day. We skyped and emailed and her calm and organised way made the build up as stress free and enjoyable as possible. We came out to Crete a week before the wedding with friends and stayed in villas nearby. We saw lots of Lissi, and now feel that she is like part of the family and we were so lucky to have her with us throughout this special time – I know it wouldn't have been the amazing day it was without her.
We decided to have our ceremony in a hotel overlooking the beach and then the dinner and reception in a beautiful restaurant with a gorgeous view of the castle and the sea again – both suggestions from Lissi. The weather, food, live music, Cretan dancers all made the day the amazing day it was... Everything was perfect and the day was everything we could have wished for, but we couldn't have done it without Lissi.

05.06.2015 Anke and Eric from Germany, beachwedding in Rethymnon
Hello Lissi!!!
After almost three months at home, the thought of the wedding in Crete and of you is very strong, very intense and overwhelming. From the first contact on we felt very well and well taken care of with you. The fear that you have to go from authority to authority in Germany was quickly taken away from us and everything turned out to be very uncomplicated. Also by the great cooperation of you in Greece. You took care of everything and made the day something unforgettable for us. What we met at the first meeting in Crete was what we felt during the phone calls. Your dear, cordial and open nature
was just trustworthy. The day of the wedding itself was realized by you as we imagined and dreamed. All in all it was just perfect, not to forget the photographer, the registrar, the translator and a big thank you to Elli for her great styling. For us it was the best and right decision to get married on Crete and above all to have you at our side. We thank you from the bottom of our hearts and would put ourselves back in your hands at any time.
Greetings from Anke, Eric und Florian!!!!

09.06.2015 Anita and Mathias from Germany, proposal of marriage to Santorini
Dear Lissi,
thank you very much for our special day on the dream island Santorini.
There I made the wedding proposal to my Anita. From the hotel tip over the choice of the restaurant and up to the organization of the private pavilion with the dream view over the Caldera everything was perfectly organized by you. And the paparazzi photographer lying in wait was the guarantor for some dreamlike pictures as a souvenir of this moment. But the most beautiful thing was of course: she said "YES" - with tears of joy in her eyes. It was all a total surprise for her and this unforgettable and at the same time romantic moment will surely remain in our most beautiful memories forever. Thank you for your support and commitment,
Mathias und Anita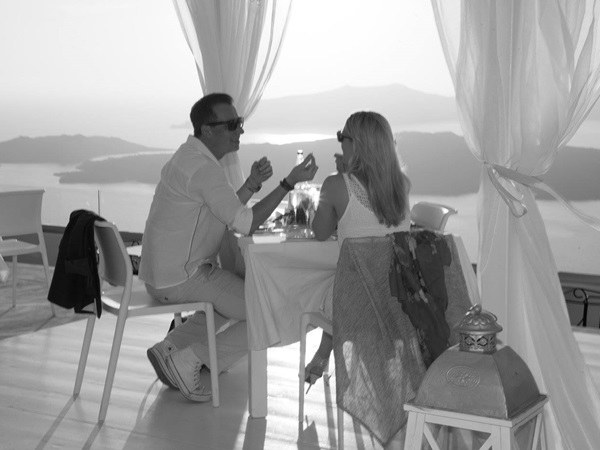 14.06.2015 Christine and Jens from Germany, wedding on Santorini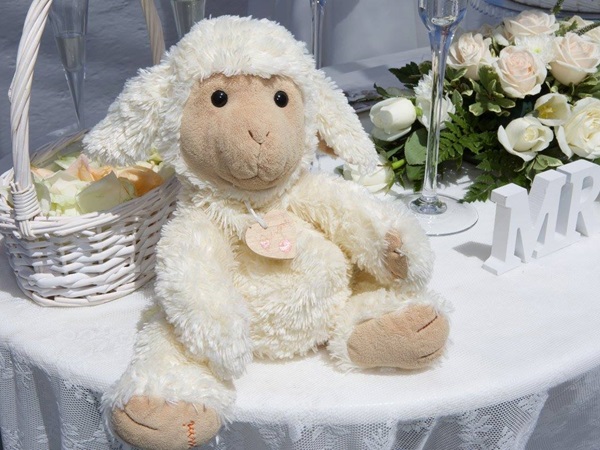 14.06.2015 Carina and Peter from Sweden, wedding on Santorini
Thanks Lissi,
for making our dream wedding come through. We couldn't have asked for a anything more, it was perfect. The best service and attention from you and all details in place so we just could enjoy our day and so we did. I hope many more couples will make their wedding journey with you.
Regards Carina and Peter (Sweden)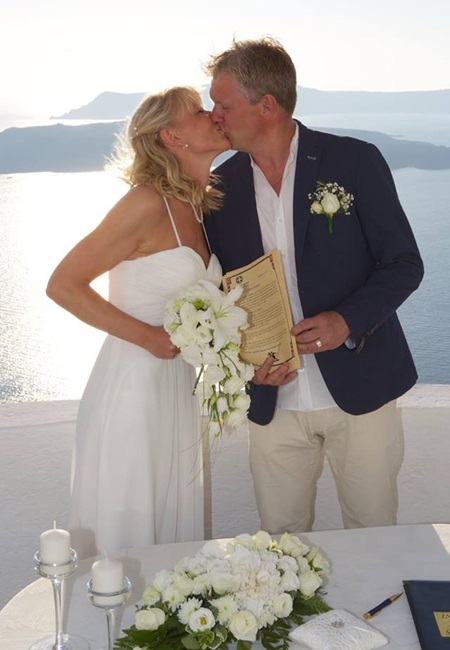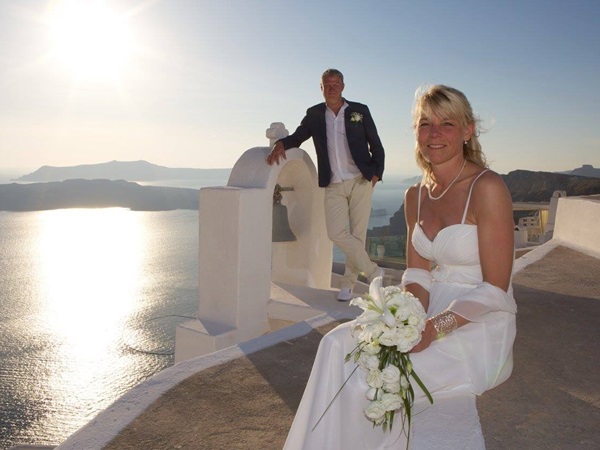 30.06.2015 Maria and Hubert from Germany, renewal of the vows in Rethymnon
Dear Lissi,
we would like to thank you again for all your support at our silver wedding (I have discussed everything with you in secret before - without my husband having been inaugurated). It was a great surprise for him, he was overwhelmed with joy and emotion. Our 25th wedding day - together with our children on the beach of Petres - will always be an unforgettable experience for all of us. Also the tavern chosen by you there with the delicious fresh fish, the location very idyllic and romantic at the same time, the sunset reflected in the sea, was the highlight and very suitable for the occasion. Wish that you would give the same luck to many more couples, it was all perfectly organized by you!!

19.08.2015 Solveiga and Povilas from Irland, beachwedding in Rethymnon
We think that we made very good decision, that we choose Lissi.She is super. Every thing was perfect. No mistakes, no surprise or extra charges. All details were planned andLissi is so helpful and a warm person. We are so happy that she was our wedding planner, it was so easy to organize this wedding, because Lissi did every thingand all things were so clear. Now we can remember only our wedding and to share amazing feelings of that day. I want still believe, that you can organize our wedding with no nervess, but you can, just you have to choose Lissi to organize your special day. For us this day was the Best! Thank you Lissi.
Solveiga and Povilas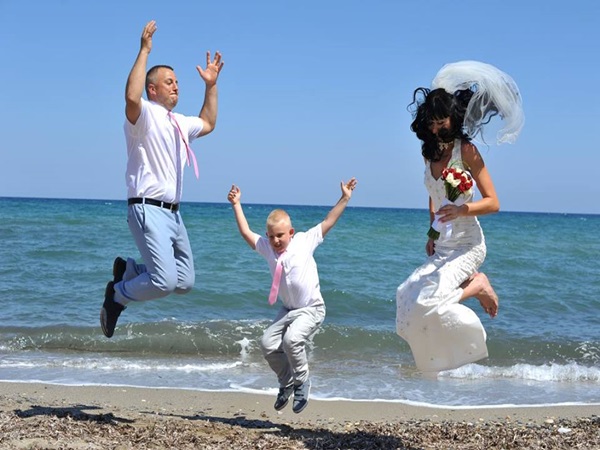 10.09.2015 Natascha and Colin from Germany, beachwedding in Rethymnon (hotel)
Dear Lissi,
we would like to thank you very much for the dreamlike beautiful and unforgettable wedding. It was a wonderful day, which we constantly think back to and which will always remain in our memory. You organized everything perfectly and stood by us from the beginning with advice and action. All your recommendations the location, the photographer, the singer, the dance group, the hairdresser and the DJ were perfect and did a great job. If you had any questions or wishes, you were always immediately available and took care of everything as quickly as possible. We especially liked your personal, loving and open manner. We are glad that we found you as a wedding planner for our wedding and hired you.
Colin & Natascha

17.09.2015 Susanne and David from Switzerland, beachwedding near Rethymnon
Dear Lissi,
a few days ago we returned from Crete with wonderful memories of our beach wedding in Sfakaki. It was a pleasure to plan "our day" with you and we couldn't have wished for better. Everything was well organized and worked perfectly. You fulfilled every wish and helped us with everything, even when it wasn't about the wedding. Getting to know each other personally on site only confirmed that you do your work with body and soul and we really loved you and your warm and loving nature. We can recommend you with best knowledge and conscience and we hope that you can give many more couples such a great wedding day as you gave us one. We will never forget "our day"! Thank you very much for everything, dear Lissi!
Susanne, David & Milena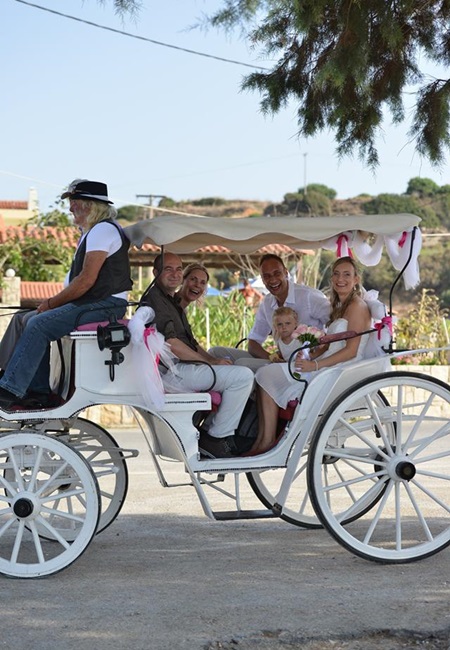 26.09.2015 Sonja and Robert from Austria, wedding on Santorini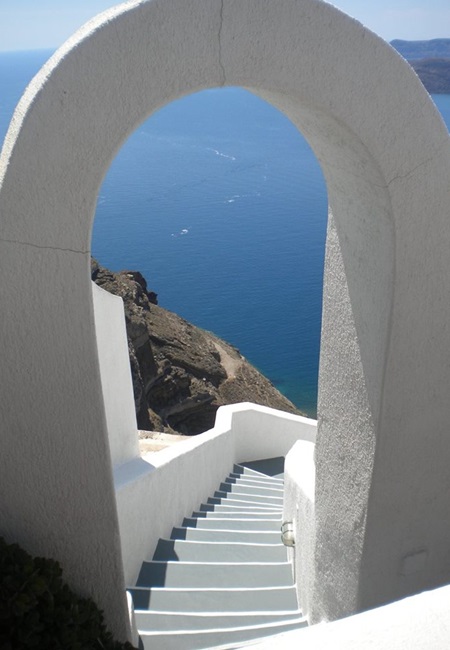 27.09.2015 Daniela and Lars from Germany, wedding on Santorini
01.10.2015 Jovelyn and Markus from, church wedding in Chania
07.10.2015 Clare and Roddy from Scotland, renewal of the vows on the beach near Hersonissos
I would like to thank Lissi and Sophie for their excellent service for my wedding renewals on 7th Oct 2015. When arranging this from Scotland I was initially apprehensive as I had never met Lissi before. I have had an excellent response, answering emails, what's app always very helpful and professional, quick responses to any queries I had. The day of the ceremony couldn't have been any more perfect, the attention to detail was amazing, Lissi had done such an excellent job I shouldn't have worried about anything. I would highly recommend perfect weddings as that's exactly what you get a perfect wedding, I can't thank yous enough for making my day perfect.
Clare