28.05.2013 Linda and Rene from Germany, beachwedding in Rethymnon
Hello dear Lissi,
thanks to your help and support, our wish for a wedding on the beach on the beautiful sunny island of Crete has come true. It was exactly as we imagined, you organized everything super great. That's exactly how we imagined it. Simply great! Now the island of Crete will always remain, with a very special memory in our minds and hearts. Thank you very much for everything!

31.05.2013 Martin and Katie from England, beachwedding in Rethymnon
"Lissi was amazing for our wedding and worked so hard to make things extra special for us. For every email, telephone conversation and meeting with her she was always so helpful and accommodating to our needs and continued trying to make us happy to the very last minute. We always thought our wedding day would be special but thanks to her it was absolutely perfect. She is a devoted coordinator and a beautiful person of whom we will hold in hearts forever."

04.06.2013 Simon and Sabine from Germany, renewal of the vows, beachwedding in Rethymnon
We had a dream wedding. Everything was perfectly organized, from table decorations to hair, make-up, wedding cake and photographers. The wedding ceremony was right on the beach under a beautiful flower arch. Lissi took care of us all the time and was always available for questions. We would marry again on Crete at any time!

08.06.2013 Lindsay and Daniel from England, beachwedding in Rethymnon (hotel)
The wedding day was amazing, the hotel and location was fantastic. The hotel staff made us feels very welcome and special. They exceeded our expectations and could not do enough to help us in every way we requested. The food was excellent and everybody involved had a great time and enjoyed the day and evening. I cannot thank Lissi enough, for all of her help and guidance, the photographer was also very friendly and professional.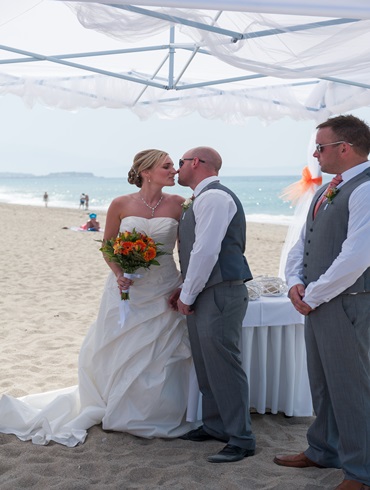 17.06.2013 Susanne and Toni from Germany, renewal of the vows, beachwedding in Rethymnon-Sfakaki
We thank Lissi and her team very much for our wonderful and unforgettable day! We felt very well taken care of from the beginning and at any time. The team and Lissi have made our day a special one! Everything was as we imagined it to be and even more beautiful!! Also the photographer took great pictures!!

06.07.2013 Sophie and Chris from England, beachwedding in Rethymnon (hotel)
Our wedding at Minos Mare resort was perfect. The staff was extremely helpful and nothing was too much trouble. Ourselves and guests loved every second.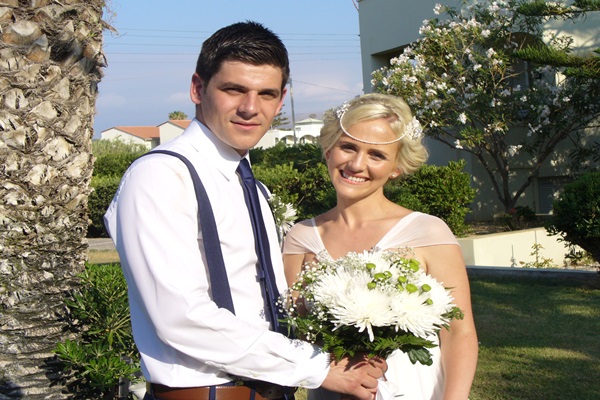 17.07.2013 Vera and Srba from Germany, Wedding at the Orthodox Church in Rethymnon (Ag. Nikolaos)
If you want a dream wedding on Crete, you should have it organized by the wonderful Lissi. She has organized our wedding and it was just dreamlike better it doesn't go at all! Thanks again Lissi!

08.08.2013 Daniela and Bernd from Austria, wedding at the Caldera in Santorini
On 08.08.2013 Lissi organized a dream wedding for us on Santorini, which we will never forget. Everything was beautifully prepared and was perfectly organized and chosen by her. We are glad that we found and engaged her for the planning of our wedding. It was great to be able to make our way to our wedding so carefree and without stress and we would like to thank her very much for everything!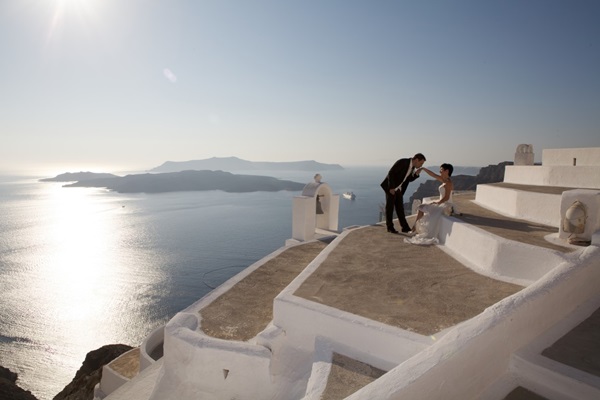 08.08.2013 Regina and Axel from Germany, renewal of the vows in Panormo
Everything was perfectly organized and lovingly looked after. Perfect Wedding lives up to its name!

13.08.2013 Franziska and Frank from Germany, wedding at the Fortezza in Rethymnon
Dear Lissi,
Many thanks for the unforgettable hours of our wedding on the Fortezza in Rethymnon! The location and the ceremony were simply fantastic. Thanks to your loving, personal and uncomplicated organization we could enjoy the day to the full.

26.08.2013 Katrin and Michael from Austria, wedding on the Caldera in Santorini
Perfect wedding - beautiful! The organisation via internet and telephone worked very well - we were able to realise all our wishes. We would immediately plan our wedding again on Santorini and with Lissi.

02.09.2013 Birgit and Uwe from Germany, renewal of the vows in Bali
Perfect Wedding made everything PERFECT! Dear Lissi, you have organized an unforgettable 20th wedding day for us... it was beautiful...! very romantic... from the first contact with you, the many e-mails, which went back and forth, up to the meeting in the hotel and the ceremony it was simply perfect!!! Many thanks also for the many photos you took.... best regards from Birgit and Uwe

10.09.2013 Daniela and Benedikt from Germany, beachwedding in Rethymnon-Sfakaki (Alkionis Hotel)
A single word: Perfect!
From the preparations to the wedding ceremony to the restaurant recommendation in the evening - everything was wonderfully organized! Many thanks dear Lissi, we will never forget this wonderful day!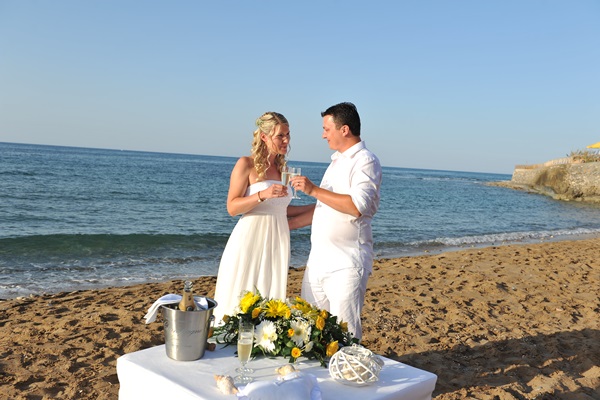 03.10.2013 Kristine and Matthias from Germany, beachwedding in Rethymnon-Platanias
Dear Lissi,
back in cold Munich we would like to thank you very much for this unforgettable day! And of course for all your help, before and after!!!! What would we have done without you?! Not only did we have a "perfect wedding on Crete", but we also really loved you! Feel embraced and be greeted very dearly!
Kitti & the Matze

10.10.2013 Sam and Luke from England, beachwedding in Rethymnon-Petres
Hi Lissi.
Thank you for your fantastic work. We could not have asked to be in better hands. I cannot recommend you highly enough. Super Super Super!!!!!!
Thank you xxx

15.10.2013 Margarete and Ulrich from Germany, wedding on Santorini
Dearest Lissi,
you absolutely live up to your company name!! Everything was perfect!