20.05.2016 Corinne and Ivan from Switzerland, beachwedding near Rethymnon
Dear Lissi,
we thank you from the bottom of our hearts for all your efforts for our small, fine wedding on the island of the gods Crete. From the very beginning everything worked out great, already during our first phone call I could imagine our wedding with the help of your explanations, you were there already in the middle of planning, you made nails with heads as they say so beautifully. This was also the reason why we immediately decided for you. And we were right, it went EVERYTHING perfectly, you were always available, you solved all our wishes (even the short-term ones) all our problems and stood by us with your sympathetic, cordial manner with words and deeds, the decoration of the wedding was super beautiful down to the last detail. You can tell that you love your job and Greece, we couldn't have found a better wedding planner, thank you very much for our wonderful wedding.
Corinne und Ivan

28.05.2016 bride and groom from Germany, renewal of the marriage vow on Santorini
Dear Lissi,
We would like to thank you very much for the great organization of our wedding ceremony in May this year on the dream island Santorini. Thanks to your good preparation and help on site we could enjoy this great day with our family (11 persons) very much.
From the very beginning we felt well taken care of by you and also our extra wishes, due to the large travel group, could fulfill all perfectly - Perfect Wedding :-)
We wish you many more such beautiful moments and satisfied customers as we were. Thank you very much.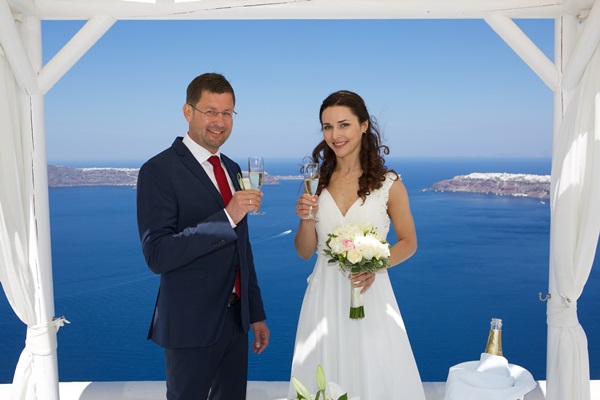 30.06.2016 bride and groom from Germany, greek-orthodox-wedding in the Metropolis Cathedral in Fira Santorini
Dear Lissi,
after almost 4 months we can say that we still think very often about our perfect wedding and wanted to thank you once again for your effort. The location you offered us was a dream and also the church, which is important for us as Orthodox Greeks, was perfectly chosen. Even during the transfer from the church to the location nothing went wrong. Even with the small things we had to take care of on site, you were immediately on the spot. In a nutshell: Thanks to your help we had a pleasant preparation for our wedding despite the time difference from Mexico. We wish you all the best!
Best regards.

24.07.2016 Ines and Elias from Austria, wedding on Santorini
Dear Lissi!
Thank you very much for the great organization on site and in advance regarding the documents. Due to our short-term decision, you didn't have much time to plan our wedding, but there was nothing missing on site. Thank you so much that you were always quickly and easily reachable and we always felt that we were in good hands with you. We always like to think back to this special day! In particular, we want to thank you for the great photographer you suggested, the pictures have become incredibly beautiful!
Ines & Elias

02.08.2016 Maria and Stefan from Germany, renewal of the vows near Georgioupolis
Dear Lissi,
we would like to thank you very much for this unforgettable day to our small wedding on the island of Crete. Already at our first contact we felt very safe and comfortable. You have responded to our wishes and fulfilled all our wishes. You were always reachable for us, so we never had the feeling to be left alone. From the beautiful decoration to the photographer everything was lovingly organized by you.
We will always remember your perfectly planned ceremony.
Maria & Stefan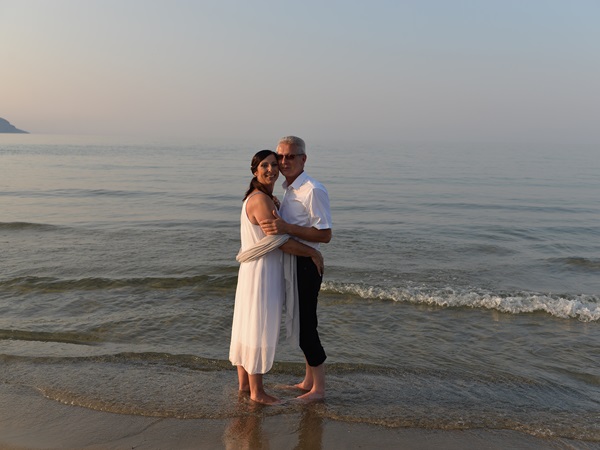 07.08.2016 Julia and Alex from Germany, wedding on Santorini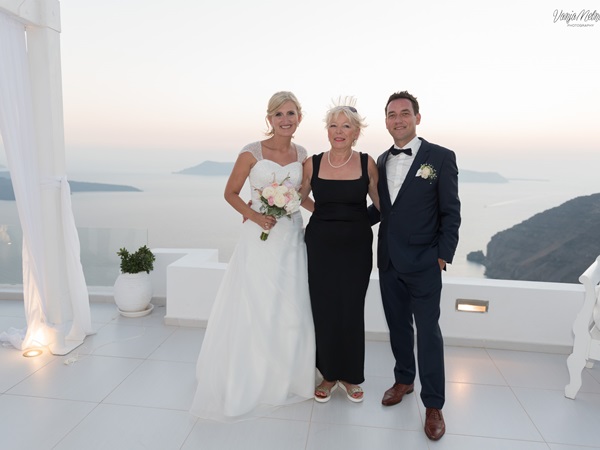 23.08.2016 Daggi and Alex from Germany, beachwedding near Rethymnon
Dear Lissi,
full of optimism and the desire to give us a yes-word in a special place on earth, we set out in search of the person who would make this dream come true for us. With so much choice on the Internet, we were not so sure what to expect.
We contacted several agencies, including you (perfect wedding). After the first contact with you it was immediately clear to us, you are it and with you we feel well taken care of for our project. Unlike everyone else, it was important for you to seek and establish personal contact with us. So we could tell you immediately about our project and our wishes and already receive the first tips from you. Of course we wished for a perfect wedding day and so it was a bit unusual to give up the reins. You immediately set everything in motion in a warm and very committed and determined manner. There were no Sundays or holidays for you, because you live your profession and were always there for us. Even when our plan threatened to fail because of the cruise cancelled by the organizer, you immediately had a Plan B in your back. In retrospect we can't be happier about this coincidence of fate!
You made it possible to make a dream come true and to make this day exactly the "special" that everyone can only wish for. Not only for the wedding day, but also for our first family vacation with our little son you gave us many good and helpful tips in advance, so that it became for us an unforgettable vacation. Because of your incredibly great and reliable nature, we very quickly had great confidence in you. Today we can only confirm this! Whether photographer, make-up artist for make-up and hair, flowers and decoration, the place of the ceremony, the registrar, the beach bar for the party afterwards - everything was just perfect and couldn't have been better. With our rocky musical finish we could celebrate together on the beach, before we went to the great beach bar with you for dinner. We left Crete with many great impressions and memories in our luggage and the wonderful feeling of not only having met a great and special wedding planner, but also of having found a friend. We thank you from the bottom of our hearts for everything and will certainly come back to visit you on your beautiful island!
Daggi & Alex & Leon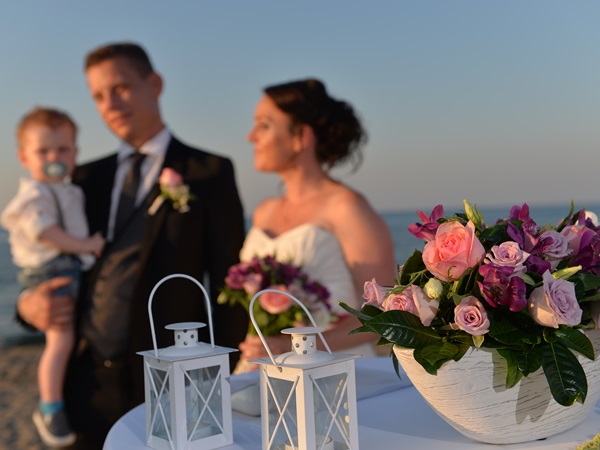 16.09.2016 bride and groom from Germany, beachwedding outside Rethymnon
Dear Lissi,
we would like to thank you from the bottom of our hearts, without you and your cheerful nature it would have been only half as beautiful! Thank you very much for planning and organizing everything so professionally! So the special day became unforgettable for us and our guests. You made it possible for us to have a wonderful beach wedding on the beautiful island of Crete! Greetings from Lower Bavaria and thumbs up for the good cooperation.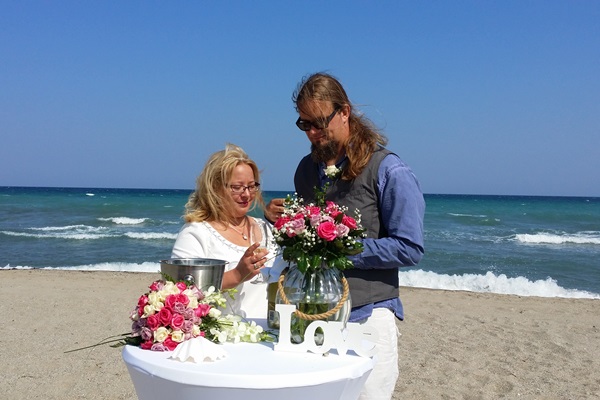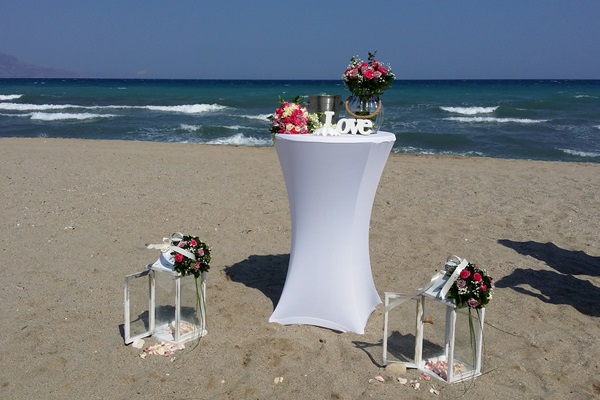 20.09.2016 Kathrin and Dominik from Germany, wedding on the Caldera of Santorini
Hello Lissi,
Thank you very much for this wonderful organization, collaboration and advice for our dream wedding on Santorini. You really made this day so indescribable and wonderful, we are just very happy to have found you as our wedding planner. We and our family are very excited about this wonderful ceremony. We will remember this day forever, because you made it unforgettable for us.
Kathrin & Dominik

22.09.2016 Tina and Basti from Germany, beachwedding in Petres near Rethymnon
Dear Lissi,
from the very beginning we have taken you to our hearts! The first good feeling was confirmed in every respect - we are so happy to have found you! Everything was perfect - from the choice of the location, the tip for the accommodation, the flowers, the delicious cake, the beautiful deco, the super photographer to ordering the perfect weather! We are now sitting at the airport waiting for the departure. The last two weeks have been wonderful. It was the perfect wedding for us, we raved about it every day and were so happy. Nothing should have been any different. Also in Corissia we had a great time. Yesterday we got the video - our expectations were far exceeded. Also the photos a dream! Thank you Lissi for everything!! And very much thanks also to Georg!!! Dearest greetings!
Basti & Tina

23.09.2016 Liis and Kaupo from Estonia, symbolic wedding near Rethymnon
Hi Lissi,
now we have been happily back home for few days and getting used to being married. We hope You got our little present and liked it :)
Also, we would like to thank you one more time for organizing such a great wedding ceremony for us. Everything was perfect and some guest admitted that they had hard time keeping tears back, as everything was so beautiful.
Best Wishes, Kaupo and Liis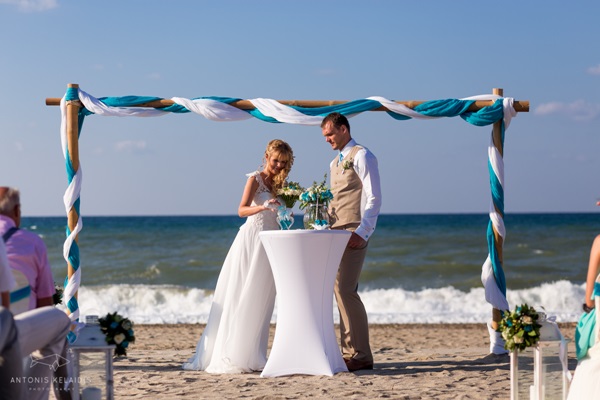 19.10.2016 Gerlinde and Josef from Germany, beachwedding near Rethymnon
Hello Lissi,
it has always been our dream to get married somewhere on the beach. Through your website on the Internet, but also through the beautiful island of Crete, we felt addressed. Today I can write that we found the ideal planning and connection through Perfect Wedding. The many questions on our part were optimized by tips and suggestions from you and we felt well looked after during the whole preparation and planning phase. Soothingly and with anticipation we were able to book the flight and the hotel. Our dream came true, we had a beautiful beach wedding, according to our wishes with sun, sea and the corresponding noise of the waves.
Thank you again, dear Lissi.
Gerlinde & Josef