13.05.2014 Caro and Gerry from Munich, wedding in Santorini
Dear Lissi,
now it's done. After almost one year of preparation you have accompanied us during this time. You stood by us with words and deeds, gave us sensational advice, organized everything great and fulfilled every wish. Here are some excerpts from your wonderful work.
We would like to emphasize your warm, open and loving nature, with which you always surprised us. Your planning and recommendations like hotel, wedding location, photographer, Mr. Chatzis the document translator, just to name a few, were simply perfect.
We will always remember this unforgettable day.
Best regards Caro & Gerry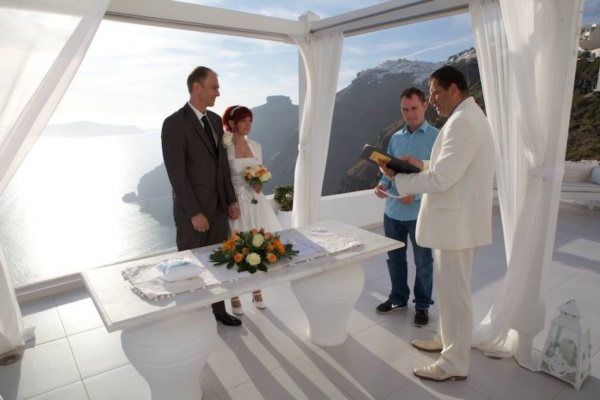 30.05.2014 Bine and Gerd, beachwedding in Rethymnon
Swap rings at the sound of the sea, that was our motto. And how it was rushing.......

Dear Lissi,
back in Munich and still thinking about Crete, because it's just fun to recall the thoughts and pictures of how our wedding on the beach at Rethymnon went off.
We are often asked by friends, acquaintances and business partners what it was like and we can only give the same answer over and over again. Better than we thought! Why? It was not completely clear to us what to expect or how it will be then. Of course you prepared us very well and gave us the "red thread" how it would work. It was super relaxed and the "most beautiful day" in life that many had wished for, which comes true here, without us having this in focus on our wish list. But how you managed to do that with the weather is still a mystery to us, because the days before and after our wedding ceremony were sometimes rather Crete-untypical. But apart from many things where we always found qualified and uncomplicated advice with you and therefore felt completely comfortable and relaxed, you probably also had the weather god under control.
And for those who have shied away from the bureaucratic hurdle when thinking about a wedding in Crete, I can confidently say that everything went more smoothly than in some German offices. But if you turn to Lissi in time with your wedding wish and rely on what she tells you, you'll surely call at the port of marriage. (OK, what happened behind the scenes, between you and the Greek administration artists or not, is beyond our knowledge.)
You simply offered an all-round professional service and for us that was simply the all-round feel-good package. From the first contact, which was already very sympathetic, over the further steps (my fight with the German bureaucracy and the fun of apostiling), up to the actual day itself, you accompanied and led us simply super, so that we really can't help but praise you in the highest tones and everyone who reads these lines and stands before the decision, we marry on Crete or Santorini, recommend to be taken by your hand and lead into a great ceremony and to a pointed wedding celebration. Perhaps one of our thoughts about the whole thing describes it best in retrospect: "We looked for help and found a friend". Dear Lissi, many thanks for everything and hopefully see you soon on Crete again.
Gerd & Sabine

03.06.2014 Jana and Ronny, renewal of the vows in Georgioupoli
Dear Lissi,
a very special thank you to you for our very special wedding, which you made possible for us. It was a wonderful day which we remember every day and which will always remain in our memory. Your organization was simply perfect and you even managed to make the impossible possible at the last minute and find us a dreamlike windproof location. So despite the stormy summer weather we had an absolutely unforgettable dream wedding on this day. Also your organization in the run-up was perfect, you thought of everything down to the smallest detail and coordinated everything in constant contact with me. We would marry again at any time on Crete and will recommend it to everyone. Such a dream wedding is not possible in Germany. Thank you very much for everything.
Jana, Ronny & Kids

06.06.2014 Maria and Sergey from Kazakhstan, renewal of the vows at the stand in Rethymnon
Our romantic wedding on the beach in Crete was well organized and properly decorated according to our preferences. We would like to express our gratitude to a wedding coordinator Lissi for a perfect job. It was amazing and unforgettable ceremony!

07.06.2014 Katie and Martin from England, renewal of the vows on the beach in Rethymnon
We wanted to renew our vows for our 1st wedding anniversary, and after the beautiful day she delivered a year earlier, we only ever had Lissi in mind to arrange it. We wanted something easy and simple but Lissi gave us easy, simple, stunning and beautiful.
She gave us flowers for our ceremony, took so many amazing pictures - both things which we didn't ask for or expect, and was always doing everything she could to make it special for us.
This is the 2nd occasion for which we've had the pleasure of her professionalism, care, consideration and her beautiful company, and we'd recommend her to anyone.
Perfect wedding, perfect anniversary, perfect Lissi!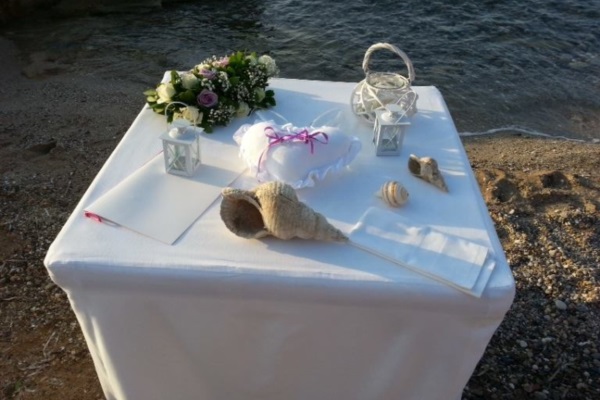 14.06.2014 Alexandra and Kurt from Austria, renewal of the vows on Santorini
Dear Lissi,
you have so wonderfully supported us in the realization of our dream, a wedding on Santorini! Everything was great, from the location to the flowers to the smallest details. All with so much love and personal commitment... In a few years we will certainly see each other again to renew our vows! We are grateful to have met such a great woman.
Best regards from Austria, Kurt & Alexandra

16.06.2014 Ivana and Georg from Austria, wedding on Santorini
Dear Lissi,
thank you so much for your great support. We had a small, intimate and incredibly beautiful wedding on Santorini. We are still touched months later when we think back to this unforgettable day. It was all well organized and although we didn't know what to expect, you exceeded all our expectations, it couldn't have been better or more beautiful. Many, many thanks dear Lissi and someday we will come to visit you on Crete.
Georg & Ivana

20.06.2014 Jack and Kimberley from England, wedding in Rethymnon (hotel)
Lissi helped us arrange our perfect wedding day. Everything ran smoothly and our happy memories will last a life time. We thank you.
Jack and Kimberley

23.06.2014 Nektaria and Eric from the USA, renewal of the vows in Gerani - Rethymnon
Lissi as wedding planner was amazing. She responded not only quickly to my questions/wishes but she answered and also made them come true even if I wanted changes last minute. She always went above and beyond my expectations. Lissi is just the perfect package. Reliable, replies to emails and implements all wishes, even if they come at the last minute. She had great ideas, places, restaurants, translators, etc. ready. We received photos by email so that we could decide before the arrival. Thanks to Lissi stress-free and perfect.

07.07.2014 Moni and Paul from Austria, beachwedding in Rethymnon (hotel)
Yes dear Lissi, it was a very good decision to put the organization of our wedding in your hands! You have already awakened our confidence on the first phone call, and we were not disappointed! We will be happy to recommend you to others because you have not only perfectly implemented our concerns and wishes, but also helped our friends to plan various surprises, so that we could experience an absolutely perfectly organized wedding! We sensed that you do everything with a lot of joy and passion, and this is probably the best recipe to make people happy on such a day! Keep it up, Lissi, and thank you very much for everything!
All the best! Moni & Paul

01.08.2014 Natalia and Victor from Moldova, renewal of the vows in Stavros
dear "Perfect Wedding" 's Team,
Me and my, now, husband would like to officially thank you for your help and dedication throughout the whole process of organizing our event.
We are deeply thankful for your advices and for helping us to choose the best place for our ceremony (very romantic beach) and the best restaurant for the dinner after (with the most friendly people). During the preparation time we have received numerous calls from you and felt really cared about, you guys just try to keep up the good work and really stand up for your name, making it a "Perfect Wedding" for the couple and for their friends and family. All our guests were deeply impressed. All the details gave our event e meaningful touch and will stay in our memory for the rest of our lives. We definitely recommend "Perfect Wedding" to all those couples out there who dream of a wonderful wedding in Greece.
Best wishes. N&V

14.08.2014 Elke and Wolfgang from Germany, beachwedding in Petres
Hello Lissi,
Thank you for organizing our dream wedding! We felt super comfortable from the first phone call. Leaving the planning to you was exactly the right decision. You were always a good and competent contact person for us, you helped us with helpful tips and you found a dreamlike beautiful scenery for the wedding. We can only recommend everyone to leave the planning for your most beautiful day to you. Many thanks to you and your team for the excellent preparation, support and care.
Elke and Wolfgang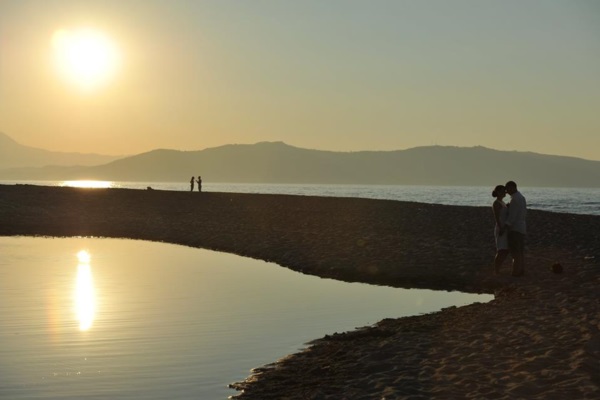 18.08.2014 Alison and Richard from England, wedding in a chapel in Rethymnon
Having decided to have a wedding abroad we wasn't sure what to expect. When we meet with Lissi to run through the wedding day plan, and see the chapel she was very helpful and spent time making sure we were happy with everything and even helped us book a beautiful restaurant (Avli) in Rathymnon for the reception. On the wedding day Lissi had made some personal touches to the chapel which made it look beautiful, from start to finish she was so helpful and made the whole day very special and a day we will always remember. Lissi and the restaurant owner (Katerina) went out of their way to make our wedding evening unforgettable as well which finished the day perfectly and made the best day of our life. We would personally like to thank her for this and couldn't recommend her enough to anyone planning a wedding in Crete.

Dear Lissi
Thank you for my mum and dad's wedding I love the decoration you done for the wedding we all loved it very much you made my mum and dad very happy and the flowers were beautiful and the pictures were splendid and my mum and dad loved the photos and thank you for the dinner and to be so sweet and kind and helpful mum and dad loved the restaurant and the food was lovely thank you so much for the lovely day we will never forget how much you helped us thank you
Your sincerely Maggie (Aged 8)

08.2014 Specialevent, surpriseparty for the 18th birthday in a traditional cretan tavern
Hello Lissi,
"Thank you very much for organising the 18th birthday of our daughter. It was a wonderful place with a magnificent view over Rethymnon. The decoration was beautiful arranged and very romantic. A really special day and event for our daughter, family and friends. So it was a Perfect Birthday!! Xxx"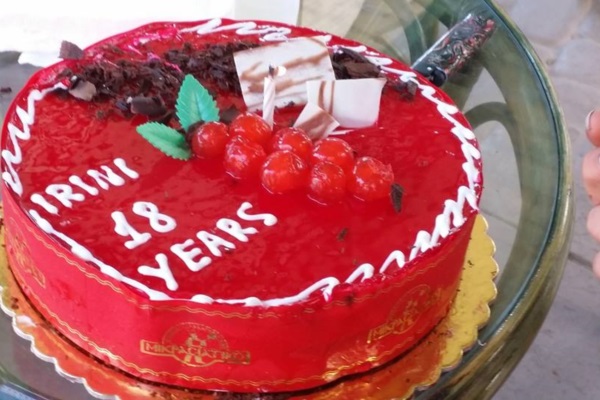 21.08.2014 Julia and Milan from Germany, wedding on Santorini
Our wedding in Santorini was beautiful. It was like a dream! The view, the atmosphere unique! Thanks to your professional organization, your creative abilities, your open ear and your loving personality, our day was perfect! Praise is also due to the photographer and your restaurant recommendation... !
We will always remember this day and remember emotional, unique, breathtaking moments. We would say: You have the feeling to make people happy through your open, relaxed nature and your loving nature and have chosen the perfect profession. Many thanks for everything!
Best regards Milan und Julia

27.08.2014 wedding at the beach in Rethymnon
02.09.2014 Hanna and Daniel from Schweden, wedding at sea
Lissie was great to have by our side at our wedding in Crete in August 2014. With her experience she thought of the little things we hadn´t and she was always available for questions and support from the planning all through the wedding. Her local knowledge and the fact she could communicate with locals in their language helped so there were no misunderstandings. If there were any problem with a supplier she would help out which was a great support. We had a wonderful wedding and Lissi had a big part in that!
Daniel & Hanna

Vi gifte oss på Kreta, Gerani i augusti 2014 och till vår stora hjälp fanns Lissi. Med hennes erfarenhet tänkte hon på alla detaljer, stora som små som vi annars hade missat.
Hon fanns alltid där, från planeringens början till själva bröllopet. Hon svarade alltid snabbt på frågor över mejlen hemifrån och på plats såg hon till att vi hela tiden kände oss trygga och nöjda. Hennes lokalkännedom och kunskapen att prata grekiska underlättade mycket och det blev aldrig några missförstånd. Vi hade ett fantastiskt bröllop, mycket tack vare Lissi!
Hanna & Daniel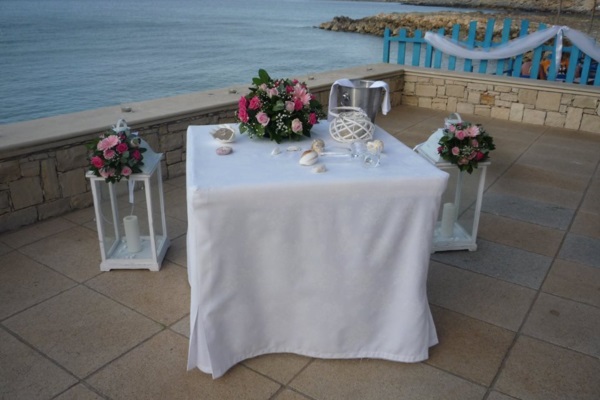 09.09.2014 Elisabetta and Giuseppe from Italy, wedding on the Fortezza in Rethymnon
I wanted to thank you because the wedding was fantastic! Everything was beautiful! In the hotel we enjoyed our stay, the location was great, music and flowers were beautiful, the food and the cake were very good and Giota was very good ... in short: a perfect marriage! I want to thank you because you made our wedding day unforgettable! All our relatives congratulate you. You have understood and satisfied our tastes and desires, making our dream reality.

19.09.2014 Susan and Robert from Germany, wedding in the townhall in Vrisses
Dear Lissi, now a few words of thanks to you.
A very big thank you to Lissi. She looked after me and also my husband friendly, open, honest and what I liked especially well, very personally from the beginning. In spite of the small wedding she always had an ear for us, answered all questions quickly, implemented wishes and also submitted other suggestions. All employees or mediated persons such as translators in Germany and translator on site at the wedding ceremony, stylist and photographer were great. We had a dreamlike wedding and would do it again and again and gladly recommend it to others. Thank you very much again for everything. Best regards Robert, Susi & Kids

26.09.2014 Ance and Janis from Latvia, wedding at the beach of Rethymnon
We had our wedding organized by Lissie and her team in September 2014. Everything was exactly what it says on the tin - perfect wedding. Starting from the very beginning Lissie gave us a very personal touch. We were amazed by the efficiency how everything was organized and also our stress levels were very close to 0 and we were able to enjoy tho whole process and our holiday fully. Even the last minute ideas from our side Lissi had no problems to make happen. After the ceremony Lissie and Kat joined us for a drink and we had fantastic time. Many, many, many many, many thanks again to Lissie and Perfect Wedding.
Thank you again we are so happy that we chose you.